June 22, 2017
Office 365 Multi-factor Authentication
Security has been major concern these days. Mostly with the identity theft. If we check our public email or social media identity, we have made it secure with the second factor of authentication like SMS or Phone call alert. If our personal things are so important than it's it our Official document are also of same important?? Keeping security as a major concern since end of 2014 Microsoft has included Multi-Factor Authentication on Office 365. Office 365 Multi-factor Authentication has been quite fruitful to those users who need to access their identity using the public computers. Now let's have few knowledges on what are the multifactor authentication?
In General, Multi-factor authentication (MFA) is a method of authentication that requires the user of two or more verification method and adds a second layer of security to user sign ins. So over here the verification methods could be
A randomly generated pass code using Mobile Apps (Android/IOS/Windows phone)

A Phone Call

A SMS

A Smart Card

A biometric device
This addition of multi-factor authentication is part of our ongoing effort to enhance security for Office 365, and we're already working on Office desktop application improvements to Multi-Factor Authentication for Office 365, which we'll introduce later in this post. Office 365 offers many robust built-in security features for all customers and also optional controls that enable subscribers to customize their security preferences. More information about security in Office 365 is available in the Office 365 Trust Center.
Frequently asked questions for Office 365 MFA
Q:  Which Office 365 plans include Multi-Factor Authentication?
A:  Office 365 Midsize Business, Enterprise plans, Academic plans, Nonprofit plans, and standalone Office 365 plans, including Exchange Online and SharePoint Online.  MFA is not currently included in Office 365 Small Business and Office 365 Dedicated plans.
Q:  Is Multi-Factor Authentication available for government customer?
A:  Yes, customers with government specific G SKU plans will have Multi-Factor Authentication included.  Government customers using Office 365 Dedicated will not have Multi-Factor Authentication included.
Q:  Is Multi-Factor Authentication available when using smartphones?
A:  Multi-Factor Authentication can be used from smartphones using the browser on the phone to access Office 365.  Mail apps on smartphones can use App Password to authenticate if they have Multi-Factor Authentication enabled.  Neither Multi-Factor Authentication nor App Password sign-in are currently compatible with OWA for iPhone/iPad.
Configuring on Admin Portal
So now let's start with the quick configuration of the Multi-factor authentication. To start the configuration of Multi-factor authentication, first open the Admin panel of office 365 portal as of the below. Click on 'More' and select on 'Setup Azure Multi-Factor Authentication'.
On the Multi-factor authentication, select the users for whom you want to enable the MFA and click on 'Enable'
New information regarding the multi-factor auth will appear, click on 'enable multi-factor auth' to enable the MFA.
It will take while to get enable the multi-factor authentication. Once completed, click on close.
On 'Service Settings', you will be allowed to choose the options for the MFA.
Configuring on User End
Now, if you are the user for whom multi-factor has been enabled. You will be logged out. And will ask to 'Set it up now' for the option. All the configuration for the MFA should be done using the web broswer.
For the user MFA configuration, select the easy method for you to authenticate your identity and click on 'Set up'.
After the configuration of MFA using browser, you might need different password for the authentication through apps like Outlook and others. For that keep, this password for the authentication. And click on done.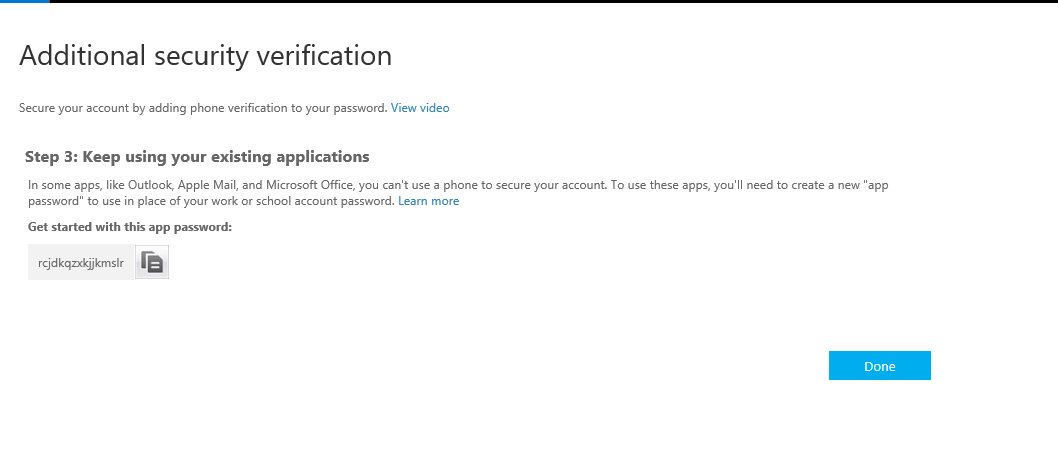 All the above configuration was for the First time setting up your MFA. But what if you would like to change the method. If you like to change the method of the MFA, go to your Office 365 portal on the browser and click 'Office 365 Settings'. Over here, select 'Security & Privacy' under which you can find 'update your phone numbers used for account security'.
Once you click on the link, you will get option for the reconfiguration of Office 365 MFA.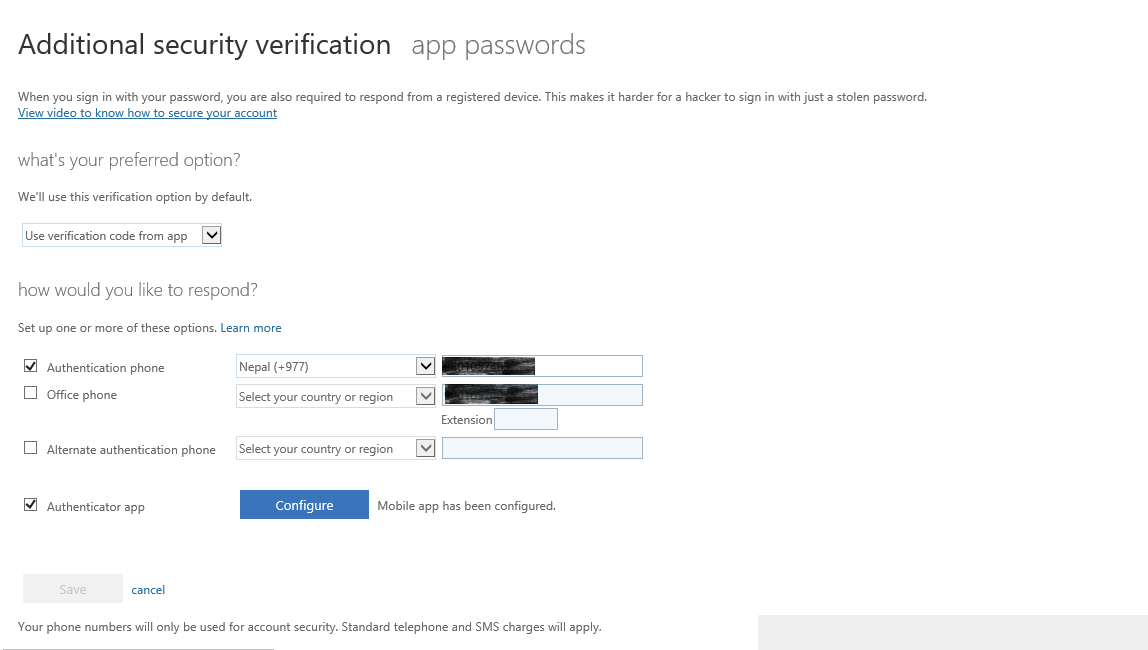 I hope it was quite fruitful to know how to enable MFA for your Office 365 and to configure it on the user end.