March 31, 2018
Office 365 Tenant Migration – IMAP
On my previous blog, I have mentioned about what are the best practice for the Office 365 Tenant Migration. And end of the day… it is always that we need to migrate the actual data. So how can we do it, as explained there are various option for migrating the data from one tenant to another.
Using the Third-party tools like CodeTwo, BitTitan or you can use any other tool. If so what is the advantage?? These tools will help you to migrate the OneDrive, Contacts, Calendar and other stuff of the user mailboxes. And of course, these tools are not for free. Hence, I would like to say this is expensive method and for the Enterprise.
The next method you can use is to download the PST file of all the users from Old tenant and upload backup it to a new tenant. This will also bring the all the content of the user from one tenant to another. But in this case, you need to have manual work of downloading the user PST file on some common location and then upload it back again. This solution is some sort of complete but clumsy and is suitable for Small Business organizations.
The third method is of doing the IMAP migration from one tenant to another. This is free of cost but do have trade off. In this migration, only the mailbox of the user is transferred. OneDrive or contacts or Calendar will not get transferred.
So, in this blog I will be going for the IMAP migration of Mailboxes from one tenant to another. Once the tenant is prepared on earlier blog . we can star the tenant migration.
First logon to the new office 365 tenant, get to the admin panel and to the setup select Data Migration mode as of this snap.
On the new window you will get the different methods on date migration, as we don't have any option for the Office 365 tenant migration. We can select the Other email sources.
Once you click on the Other email sources, you need to provide the information regarding the endpoint connector. To create an endpoint connector for office 365 we can fill the data as of it on the snapshot. And please be sure that you need have the correct admin account of the tenant.
Once you save the connector, you will see the users of your new tenant. These users need to be matched with your old tenant email accounts.
Now just provide the credential of the Mailboxes you want to migrate to the new tenant. If the credential are correct, you will get the verified sign and with verified sign, you can start you migration.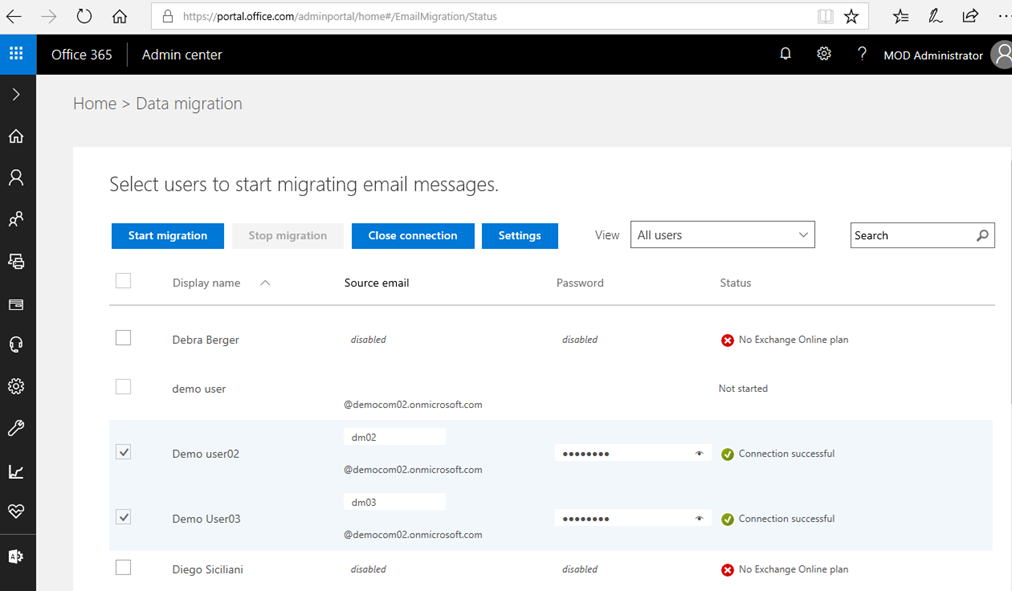 Hope this could help you of the office 365 tenant migration… coming up soon with Gsuite migration to office 365…